Grass Manufacturing produces metal stampings for many industries, including high vacuum, Aerospace, solar, semiconductor, x-ray and more.
We specialize in custom built tooling with tight tolerances all built and maintained in-house. Tooling types ranging from simple shapes to deep draw, to coining and more complex progressive dies. We produce stampings from a wide variety of sheet, strip and coil. Stainless Steel, Copper, Aluminum, Nickel and Copper alloys, Molybdenum and Tantalum just to name a few. Grass Manufacturing prides itself on producing premium quality products all manufactured in America. Decades of experience and our unwavering commitment to the highest quality products is how we stand out in today's market.
Our Grandfather, John E. Grass, was a talented Craftsman who immigrated from Germany in 1920. He and his family lived on the east coast for a short time then moved to San Francisco where he worked as a tool maker for Schlage Lock.
He and his growing family then moved down the peninsula where he taught metal shop at Sequoia High School and started building his own business. John's three sons took over the business after his retirement 1964. They ran the business until the early 90's when they too, retired.
Grass Manufacturing is now operated by third generation Grass family members. We proudly continue to produce the highest quality products possible.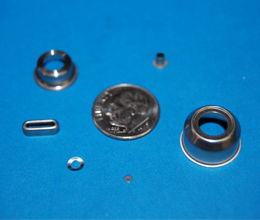 Tool and Die
Design, Building
Prototyping
Wire EDM, Turning
Inspection
Video, Optical